Today we are staring off with week by hooking up with Mama Kat and her world famous writing prompts. Ya know ya want to join in. The one I picked today was to share the top 10 quotes from my kids for 2012. Okay I could only come up with 9. Dang! Now I really had to think about this one as my shortman tends to say random yet hilarious things about every other sentence. I really should start writing them all done but probably my favorite one is number one. It made the hubs and I laugh out loud.
1. While explaining the day after Christmas to my 6 year old that we had been married for 10 years he pops off and says " That means you have to break up soon right? " Um no but we laughed for about 10 mins.
2. " Bano " my now two year old used this word for everything except for what it means in Spanish.
3. " Mom I think you've gotten fatter." Gee thanks I am pregnant you know. Oh the mind of a 6 year old.
4. " Mrs. Schnell I mean mom" yeah my oldest regularly calls me by his teachers name.
5. " I don't want another brother I've got enough of those!" Oh my poor oldest is destine to be the oldest of three little brothers. He was really hoping for a sister. Yeah you and me both pal.
6. " Mom Shep says that Santa's not real?" Oh dear well that one made me a little sad but crisis avoided!
7. " Is that da, Is that da, Is that da?" As my two year old runs to all family photos in my house looking for the hubs it was enough to drive a woman nuts! I have a lot of photos up!
8. Littleman looks at aunt R and in a rather demanding voice says " sit down." and pats the seat next to him. Where does he learn this stuff.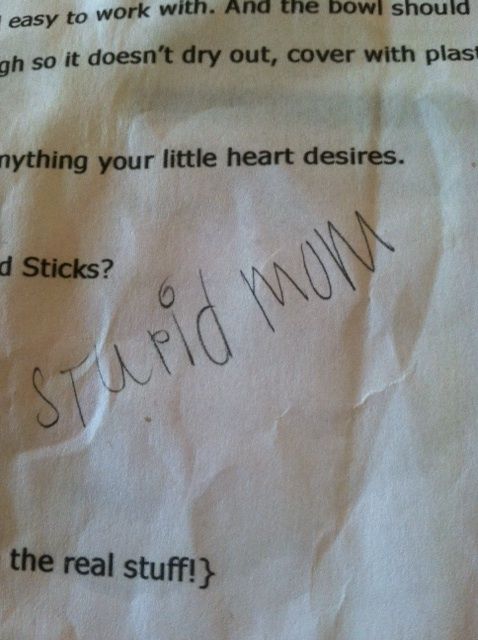 9. Only the picture does this justice. I guess he either really hates my pizza recipe as that's what shortman wrote this one or I managed to really tick him off that day. The handwriting is spectacular for him though!
Hope y'all enjoyed my kids randomness and don't forget the fun jewelry giveaway I've got going on. Have a great one y'all!