Morning y'all! First off we got snow yesterday! And my littleman experienced playing in the snow for the first time. I'm sure that I will be sharing those photos with y'all asap. However, today I want to tell y'all about something that I get asked about. You see I have naturally wavy or kinky hair. Not all the way curly but not straight. In other words it's a hot mess and it drives me crazy! I have tried so many things to get it under control and well now I just wear it up a lot. After all I'm the mom of three almost four boys and having your youngest tug on your hair hurts a lot. Did I mention I have a way sensitive head. Anyway I've been asked a couple of times what I use on my hair and what I love to use and how I wear it curly because people always seem to really like my hair that way. Hmm.... Okay so here are my favorite products to put in my curls.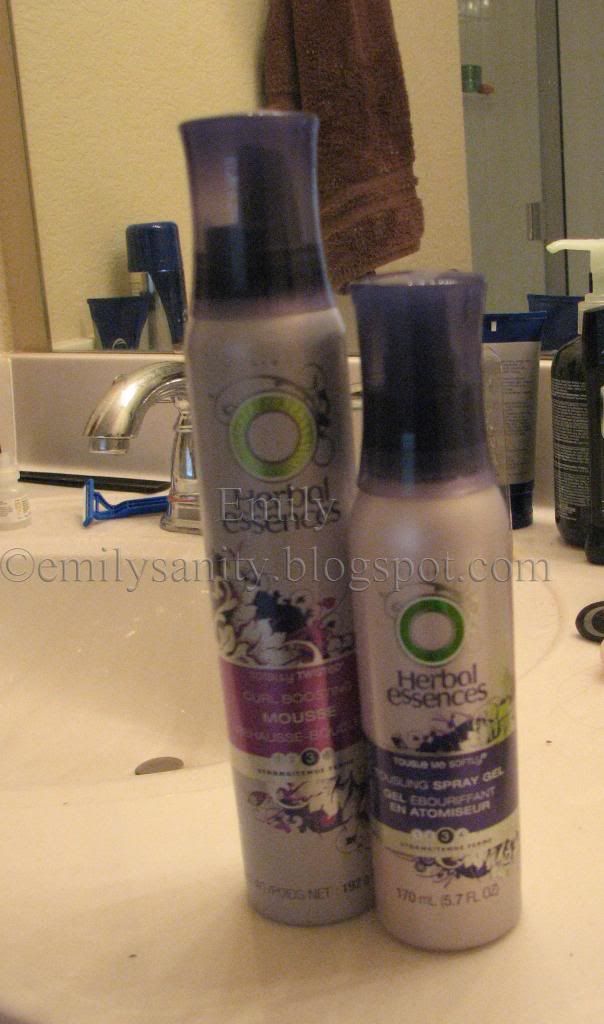 Herbal essences curl boosting mousse or tousle me softly mousse and tousle me softly spray gel are my absolute favorite. They don't make my hair feel crunchy unless I put to much in, they are not sticky and yucky feeling, and they smell great. So, you don't go around with a stinky head of hair. I am going to apologize right now for the quality of my photos. My bathroom lighting is awful. Just bear with me plus it stinks when you have to take your own pics. Anyway along with these products there is a whole way I go about doing my hair to get the best curls for my type of hair. I start by wearing my hair up wet the day before. So, that it dry's in a bun. It looks like this in the morning and yep I have no make up on in this photo and tons of bags under my eyes. Remember 7 months pregnant here not sleeping well.
I know totally scary! I would run away from me and please ignore the turtle neck it just snowed and I was freezing. Anyway so I wake up and then I recycle my hair as one of my old college roommates use to call it. This is for days when I'm going to shower at night not first thing in the morning. I take down the bun and then lean over the bath tub just getting my hair a little damp. Not soaking wet other wise it has no body just makes me look like a drowned rat as my mother would say. I then add the curl boosting mousse and after I've put in the right amount or what I want I spray the tousle me softly gel. I then pull out my diffuser and use that. I always flip my hair over and do it upside down first. This seems to add body to my hair. Once I'm done with the diffuser this is what I usually get.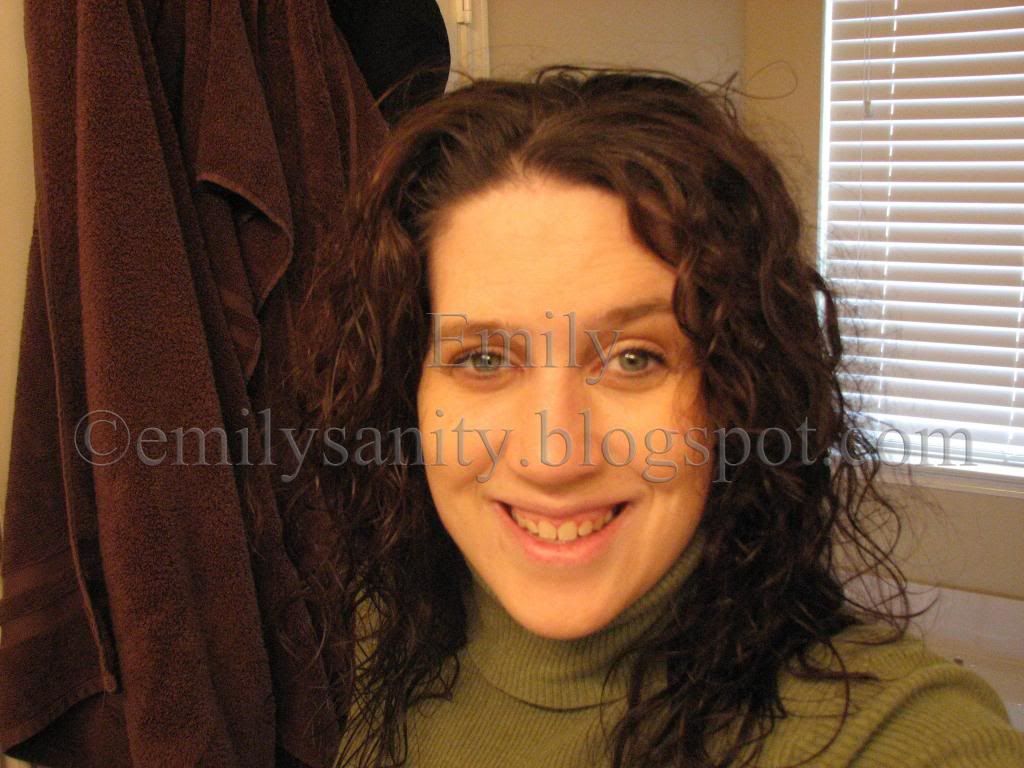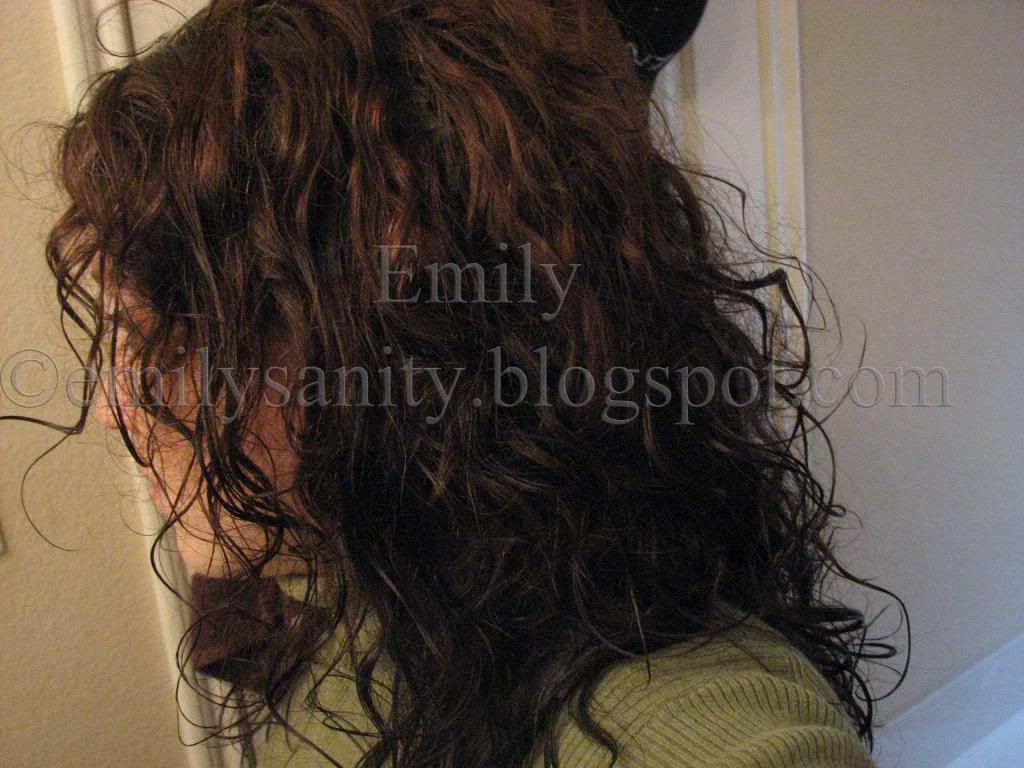 Whala isn't it beautiful! Some times it's more full then this and yes I get some wispy things but all in all it usually looks pretty good. Check out my profile pic it looks awesome and I look awesome in that pic. I even managed to put some make up on in these pics not that the light in my bathroom would ever let you know that. So, there you have it my favorite curly hair products and how I do my curls. Oh and of course if you get bored with it hanging down you can always pull it up half way through the day. Heaven knows I do that a lot.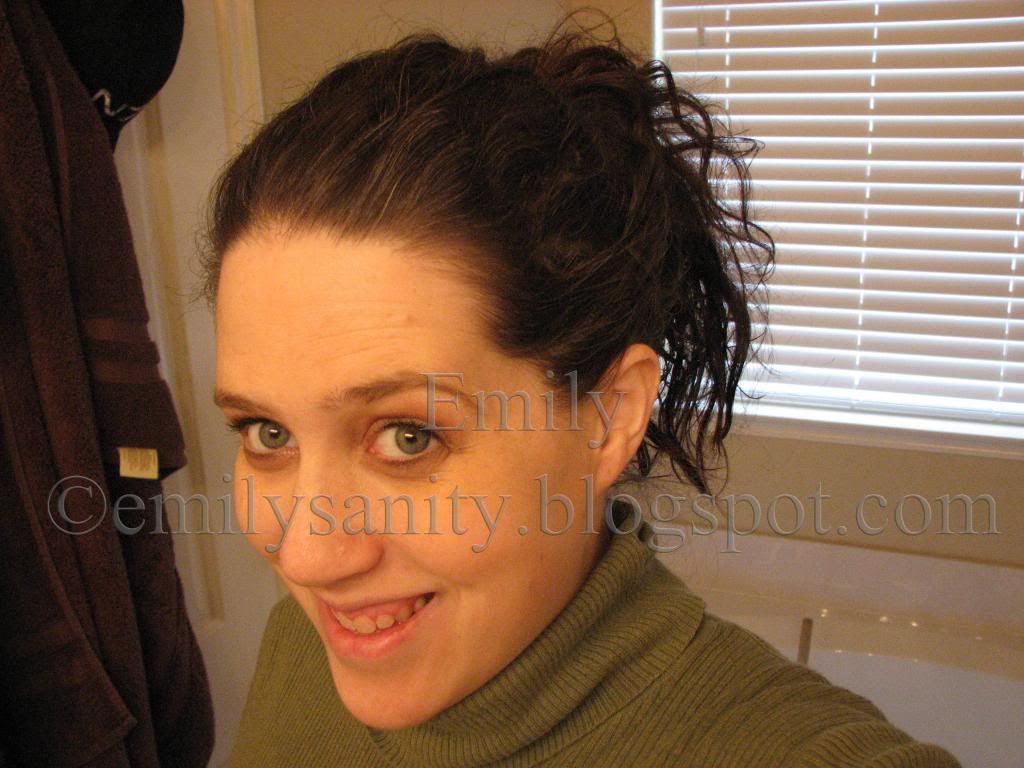 Well I hope you have enjoyed all the crazy awful pics of me and I hope this helps ya with your curls. Stay tuned for another day when I show you how I wear my hair straight.